Guild Wars 2 Releasing Queen's Jubilee Update Soon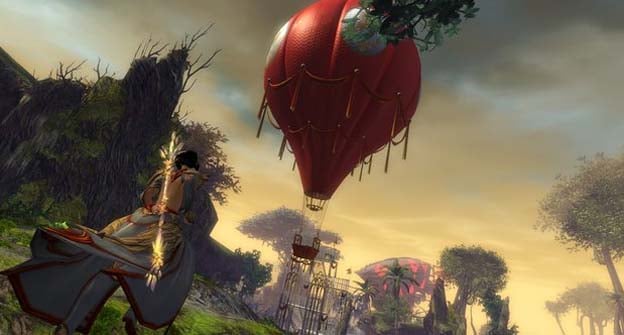 Guild Wars 2 continues to grow larger with update after update showcasing a ton of new content. The latest update will be the Queen's Jubilee, which should go public on August 6th—that is, if nothing goes wrong. It will include hot-air balloons, new features, and plenty of combat.
Did I mention hot-air balloons?
Queen's Jubilee will center on a celebration of Queen Jennah's ten year anniversary as ruler. Players will be able to ride hot air balloons to Kryta, capital of the human nation, in order to see the opening ceremonies. There, they will find a new gladiatorial arena, and will fight to the death for the queens amusement.
Aside from the flavor and fluff, Queen's jubilee will add several new features. A new "account wallet" feature will allow players to easily manage funds across characters. Dungeons will feature new rewards and "watchwork technology" will be added to the crafting recipes. Characters will also be able to choose from several new permanent finishers.
The Guild Wars team is planning to preview the new content on August 5th in a live stream via the official Guild Wars 2 Twitch.TV channel. So if you cannot wait one more day for your Guild Wars 2 goodies, you'll be able to scope out all the new features then.
Source: ShackNews
08/01/2013 11:10AM