Xbox Exec Says Xbox One Can Download While You Are Away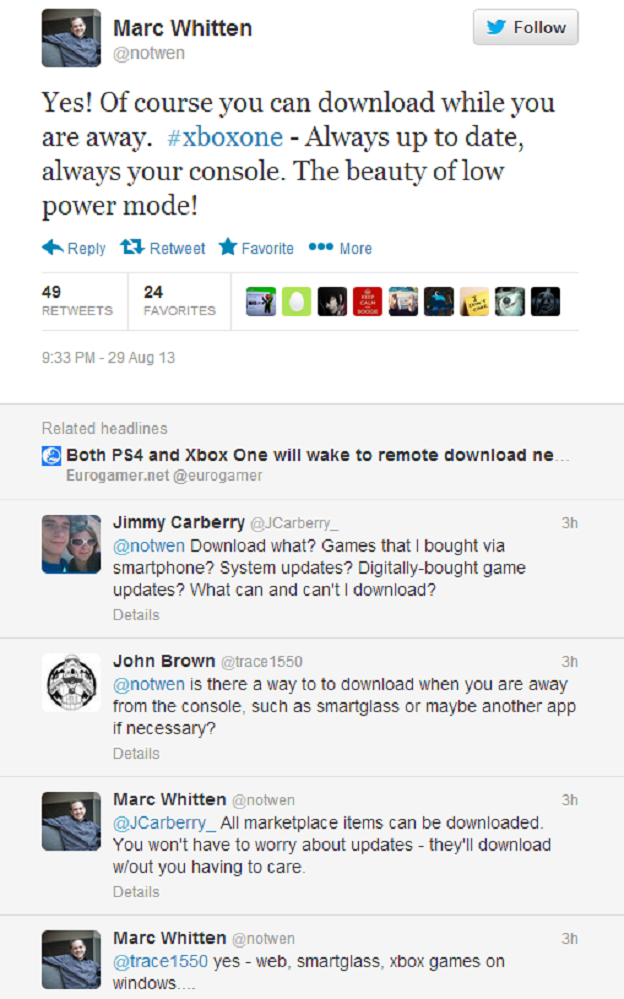 Responding to player inquiries following Sony's confirmation of background downloads for the PS4, Microsoft exec Marc Whitten today confirmed, via Twitter, that the Xbox One will also be able to "download while you are away." Specifically, as detailed in a series of follow-up tweets, "all marketplace items can be downloaded." This applies to all applications, all of which can be managed through a user's smartphone, and can be conducted "w/o you having to care," Whitten added.
Although downloads can be queued up on the Xbox 360 via the Microsoft website, downloads don't begin until the system turns on. With this addition, users will be able to queue up downloads and then have them download while the user is away, courtesy of the Xbox One's low power mode. The widespread addition of background and low power-mode downloads is excellent news for the accessibility of next-gen consoles, sure, but also comes as a painful reminder that the current-generation Xbox can't already do that. On a brighter note: No more staring at download progress bars!
Source: Twitter
08/30/2013 07:10PM