Kojima Explains Why Metal Gear Solid Is Aiming for "Sexy"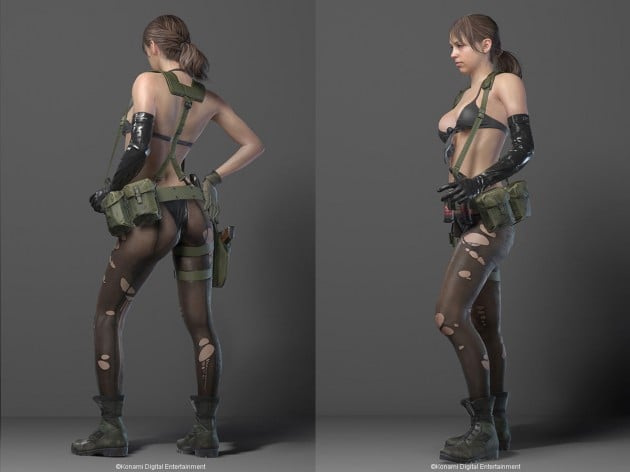 Hideo Kojima, creator of the Metal Gear series, inadvertently ignited a Twitter fire with a series of announcements detailing his intent to instill in Metal Gear Solid 5 a sense of eroticism. Responses to the initial showing of character Quiet, a female sniper in the game, which consisted of a glorified shot of her rear end, were met with unsurprising cries of objectification and fascism. In an effort to curtail the resentment and clarify his plans for the game, Kojima, speaking with Polygon, explained just what sort of erotic appeal he's gunning for:
"Maybe the phrase 'erotic' wasn't really [the correct word for] what I was trying to say," Kojima said. "What I'm really trying to do is create unique characters. One of those is, of course, Quiet. She's a really unique character, I wanted to add that sexiness to her. It wasn't really supposed to be erotic, but sexy."
In an effort to avoid the unending semantic debate inherent in the two terms, let's look at how Yoji Shinkawa, a designer for MGS5, plans to apply sexy to the series' next iteration. "From my perspective," he said, "it's not just the characters, but often I look at a weapon or vehicle and think 'That's really sexy.'"
So, in addition to Quiet's revealing outfit, we'll be palling around with sexy mechs and vehicles. Fantastic.
Source: Polygon
09/06/2013 06:10PM