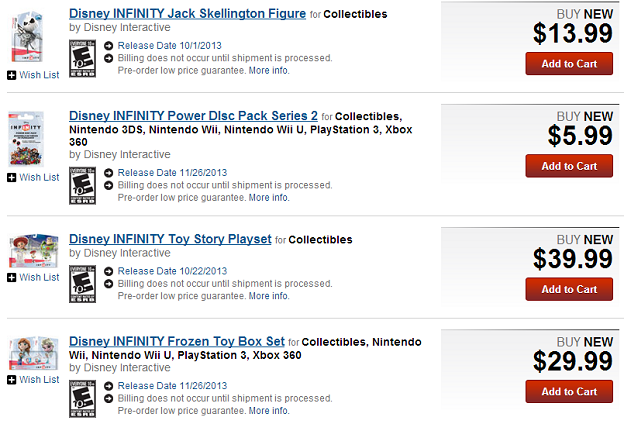 Retailer GameStop recently posted a new and currently unannounced wave of Disney Infinity figures on its website. Staying true to the lucrative business model upon which the figure gaming genre is predicated, it seems Disney is already taking their character lineup to infinity and beyond (I apologize for that). The fall wave of figures appears to include the following:

· Frozen toy box set with Anna, Elsa, and two power discs, priced at $29.99, and set for release November 26, 2013 · Jack Skellington, priced at $13.99, and set for release October 5, 2013

· Power Disc series 2, priced at $5.99, and set for release November 26, 2013

· Toy Story Playset with Jessie and Buzz, priced at $39.99, and set for release October 22, 2013
GamInformer reports an expected (but currently unconfirmed) Woody figure to be included with Infinity's Toy Story playset. Bundles and other promotions have yet to be detailed by Disney.
If you're looking for more on Disney Infinity, check out why we feel the series' play sets could spell its doom, and watch as we scramble to figure out why the game is missing every Disney princess known to man.

Source: GameStop (via Gameinformer)
09/12/2013 10:00AM