A Close Look at Grand Theft Auto V's Collector's Edition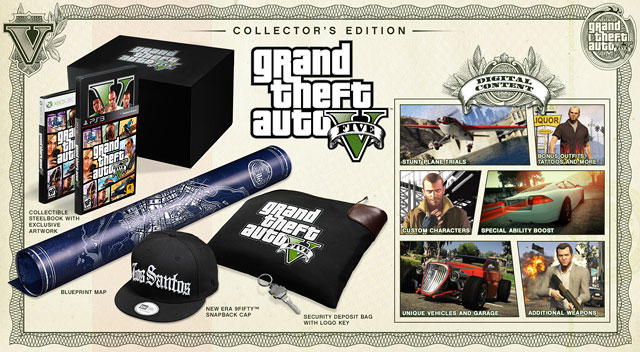 Grand Theft Auto V just released and, in the next few weeks, millions of people across the globe will pick up Rockstar's game. A signfically fewer number than that will buy the collector's edition. For those of you without the collector's edition (or those who just want to hear someone use "tosser" in a genuine way) VG247 posted an unboxing video (careful, it's not safe for all workplaces).
This video gives you a first-hand look at the contents of Grand Theft Auto V's collector's edition.
So what can you expect to find in the video? You'll see the guy pull many things out of a box, things such as a t-shirt, a hat, a key, and something he calls a "drug bag," otherwise known as a safe bag. I particularly like the art on the steel case. I'm sure many of you would like it too, at least those of you who, as the guy in the video says, "like steel and cases." Each side of the case has a unique bit of artwork that showcases different sides to the main protagonists. I think the presenter describes the effect in a pretty efficient way: "Ah, they look so friendly on the front, and then they're actually evil bastards on the back."
To get a front-seat view to the contents of Grand Theft Auto V's collector's edition, head on over to VG247. And, once again, there's some langauge in there, so it won't be safe for every office.

Source: VG247
09/17/2013 01:30PM