Saints Row IV Steals Grand Theft Auto V's Thunder on Release Day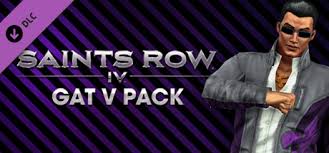 Deep Silver employed its twisted sense of humor for a brilliant bit of self promotion. On this hallowed day, the day on which Rockstar unleashes Grand Theft Auto V upon eager gamers the world over, the minds behind Saints Row IV struck. Using the hype for GTA V and the power of social media, Deep Silver performed a bit of alchemy and transformed Grand Theft Auto hype into Saints Row gold. So how did the company do this?
First, it released a Johnny Gat-themed DLC pack titled GAT V. Then it created a hashtage on twitter. The hashtag? #GAT V. One step later, Deep Silver paid twitter to promote their troll-tastic tag. Then the chaos began.
Careless tweeters have been using the GAT V hashtag in place of the GTA V hashtag for hours now. The mistakes climbed the pile of standard tweeters up to reputable news outlets and reporters such as CNN's Marysabel Huston (who I'm sure has a lot of other things on her mind besides getting a hashtag right).
D-day for gamers!! #GATV is out today! Did you get the game at midnight? http://t.co/gkLw4iWIic pic.twitter.com/HA8p91tZmx — Marysabel Huston CNN (@hustonCNN) September 17, 2013
Deep Silver didn't stop themselves with just starting the chaos. From the tweets, it looks like the company intends to gleefully ride the chaos to its conclusion. At least, it looks like that if you're paying attention to Deep Silver's PR rep Aubrey Norris' twitter feed.
09/17/2013 03:55PM