GTA V's Companion App Makes It to Android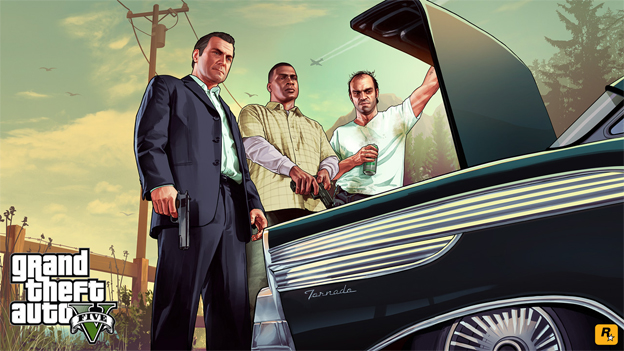 So, GTA V's companion app - Grand Theft Auto: iFruit - has today come out for Android. After having been originally released on iOS in late September past, Android users can have their own share of fun of the in-universe companion app (hopefully free of early issues).
Absolutely free off of the Google Play store, Grand Theft Auto: iFruit "hooks directly into your experience of Grand Theft Auto V," and links your GTA V profile to the app. Acting like a hub, the app allows you to keep up to date with GTA V news, log into Rockstar's Social Club, and be able to launch other Rockstar Games apps.
Aside from being a hub for all-things GTA V related, Grand Theft Auto: iFruit also includes two mini-games to mess around in: "Los Santos Customs," and "Chop the Dog."
"Los Santos Customs" lets you customise your get-away vehicle outside of GTA V, allowing you to change the vehicle's engine, window tint, body armor, brakes, and much more. Once you're finished pampering your chosen vehicle, you will be able to "place your order on-the-go," and find your future instigator of increased roadkill waiting for you in a garage the next time you play GTA V. The same process can still be done even while in-game, where your local mechanic will call you up and notify you to stop by to collect your vehicle. Additionally, "Los Santos Customs" also allows you to customize your very own license plates. Reserve yours now, and you'll be able to cruise around with your own personal message to the world in both GTA V and GTA Online.
Lastly, "Chop the Dog" seems to be the GTA V equivalent to Tamagotchi. As the comparison infers, "Chop the Dog" is a virtual pet mini-game that allows you to look after Franklin's (one of the three anti-heroes of GTA V) pet dog, Chop. Playing "Chop the Dog" will allegedly give you benefits when playing as Franklin in GTA V. Feeding, petting, playing, and walking (to name a few things) will make Chop's day, but too much or too little of any of these will make him rather unhappy.
Successfully looking after Chop in "Chop the Dog" positively changes Chop's behaviour in GTA V, so that he'll be more helpful and responsive to Franklin, perform tricks, sniff out items, and if he's been a particularly good little doggie, you will also be able to buy him a new collar after exchanging credits obtained from walkies and proper caretaking.
Not sure what you think about Grand Theft Auto V? Check out Matt's review and decide if it's a game you want! Additionally, you may also want to read Joshua's review on Grand Theft Auto Online!
Source: Google Play
10/28/2013 07:40PM