Microsoft Gives In-Depth Demonstration of Xbox One Navigation Using Kinect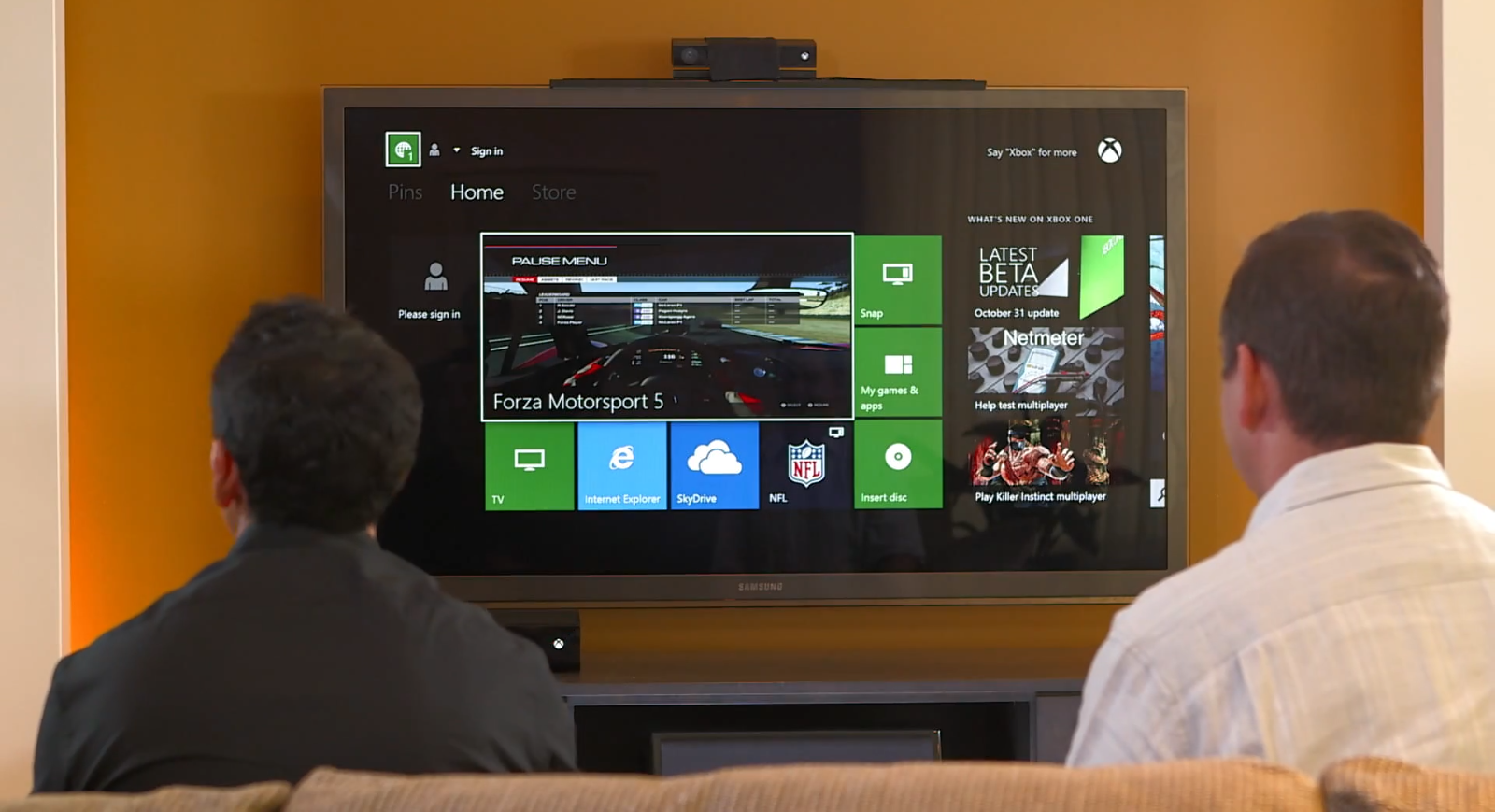 We've still got two weeks of thumb twiddling until the Xbox One hits store shelves around the world, and Microsoft is keen to emphasize the value of its new console as an entertainment device. The new video, which appeared on Youtube early this morning, shows Marc Whitten and Yusuf Mehdi sitting casually on a couch talking about (and to) the Xbox One. They give the viewer a guided tour of how to navigate the new dashboard, a glimpse of the apps we can expect to see on the Xbox One at launch, and how the machine adapts to different users.
The design borrows a lot from the "Metro" style of Windows 8 and is therefore visually quite similar to the Xbox 360, though the comparisons end there. After logging on, the machine recognizes the recent actions of the user and alters the dashboard to reflect this. Been playing a lot of Forza? It's there on the front screen for you to dive straight back in. Been watching a lot of TV? It's right there on the dashboard for you. The transition between screens and applications are smooth and snappy, and it seems like the developers have taken out a number of the fiddly navigation issues that annoyed users of the Xbox 360. "Xbox, go to Netflix," goes straight to Netflix from the middle of a race in Forza; "Xbox, go to Hulu," goes straight to Hulu from Netflix. Navigation on the Xbox One looks like pure pleasure.
However, I will not buying the Xbox One to watch films on it. Nor will I be buying the Xbox One to stream TV, listen to music, or have Skype conversations. Now don't get me wrong, all of these are great additions to the console, but back in 2005, I bought my 360 to play games on, and for little else. The Xbox One is beginning to look more like a glorified DVD player focused towards the casual gaming community rather than a gaming device. The smooth edges and glassy screens are miles away from the "boot up and play" days of the PlayStation 2 and Xbox.
Some are saying that the launch of these next-gen consoles could start a Golden Age for PC gaming. I think I now agree.
Source: YouTube
11/08/2013 10:35AM