HAWKEN Gets New "Wreckage" Map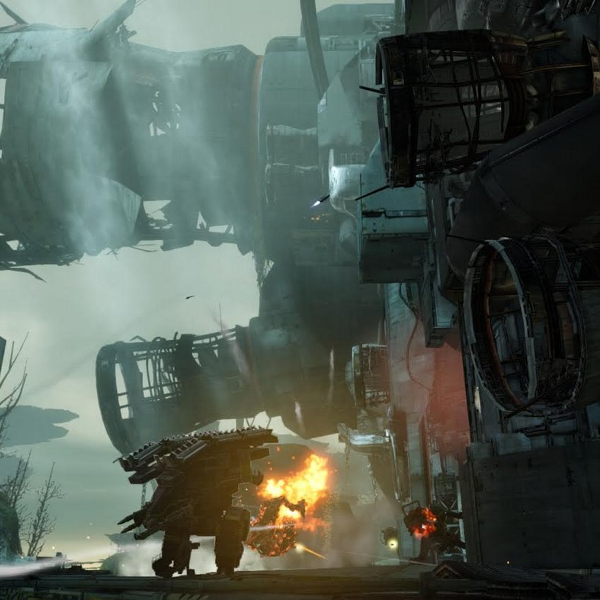 A new multiplayer map for the mech free-to-play HAWKEN was released yesterday, adding a large area in the belly of a starship to the map roster.
Titled Wreckage, the new map takes inside a crashed freight cruiser in a swamp on the planet ILALL, and also offers new customisation options for your mechs, like new skins, a new thruster pack, and a repair drone. The map itself is also tied to Meteor Entertainment's efforts to expand on HAWKEN's futuristic universe. The map will be available for Deathmatch, Team Deathmatch, Siege, and Missile Assault game modes from both Quick Match and the server browser.
"Our artists and designers worked closely together to ensure that both art and design created the best experience possible for players," says Darren Quach, senior concept artist at the studio.
In addition to this new map, Meteor will be throwing in a seasonal twist on the Last Eco map into the mix in the name of Operation Frostburn, HAWKEN's annual winter event. Since it's now December, Meteor is adding snow and other wintery themes to the map, giving players a little motivation to be festive this winter--which is just cute!
In true Christmas-ness, Meteor will be reintroducing popular Christmas-inspired cameos and skins, like a snowman repair drone, a candy-cane wrapped thruster, and a good old-fashioned snipe hunt to complete the Wreckage experience. However, these customisations are only available for a limited time, so be sure to get in on that when you get the chance!
Source: Press release.
12/05/2013 08:55PM