SEGA Producer Interested in Releasing F2P Games on the 3DS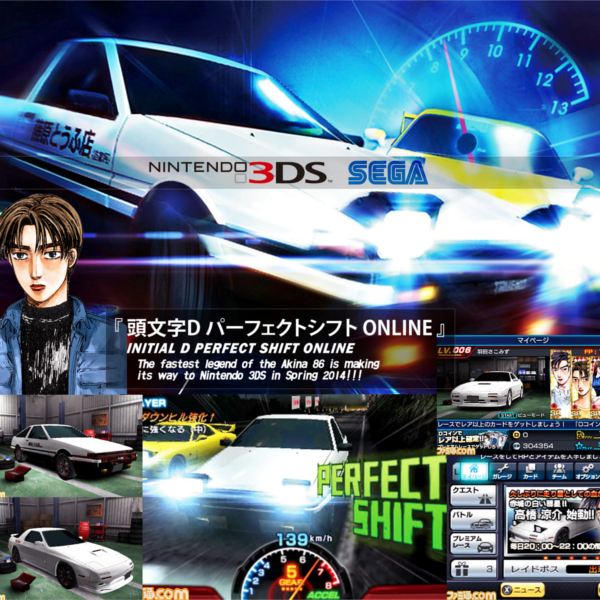 In all honesty, I've not heard of a free-to-play game being available on the Nintendo 3DS--it's just a genre I wouldn't expect to be on a handheld platform of any description, including mobile devices. Color me ignorant though, because Chief Creative Officer Toshihiro Nagoshi is working on SEGA's first ever F2P for the 3DS, called Initial D: Perfect Shift Online.
In an interview with Famitsu, Nagoshi expressed confidence and interest in developing a free-to-play game for the 3DS despite the majority demographic for the handheld being of a lower age group compared to other platforms (presumably referring to the 3DS' global demographic and not just its demographic in Japan), and despite the dominant handheld in Japan being the smartphone. Nonetheless, Nagoshi states that he is very interested in seeing what happens with the end result of making a F2P for the 3DS.
"In order for a F2P game to succeed, well basically, the device must be spread out in terms of popularity—that's the condition you must meet," he explained. "In Japan, the most widely used handheld device is definitely the smartphone; but following that, it is definitely the Nintendo 3DS."
"I understand that the market is different, but on the other hand, I believe that everyone is aware of that, and that's how the Nintendo 3DS has kept going on without having to release F2P titles. So, I'd like to try it out, and see the results for myself. As a game creator and producer, I'm very interested in seeing what happens."
He went on to reiterate that the very idea may very well flop on its side and not do well at all on the handheld, but he believes that there's a chance to get people from an older demographic interested in the handheld, not just the younger demographic. He admits that nothing's certain at the moment with how Initial D (or presumably any F2P game on the 3DS) will fare, but he has expressed that it is worth giving it a shot.
When asked if there any more ideas in the works for other F2P games to release on the 3DS, Nagoshi openly admitted that there are indeed ideas being mulled around, but refrained from going into further detail on said ideas, albeit with a chuckle.
"At the moment, I can say that we've been thinking about plenty of things. We have suggestions amongst ourselves like 'wouldn't this be a perfect game for a F2P title on Nintendo 3DS' and many more. So when the time comes to talk about it… we'll just leave it at that for now," Nagoshi said with a laugh at the end of the interview.
I'm interested in seeing how the concept of having a F2P game on a handheld will fare. I would certainly like to see something like it on handheld, maybe something like a Pokémon F2P done in a style similar to Pokémon Colosseum or Monster Hunter F2P. Hell, even a Sonic F2P sounds hilarious, but I'd try it out for the laughs.
Initial D: Perfect Shift Online is currently in Beta, and is slated for release on the Nintendo 3DS sometime this winter in Japan, according to the English-translated source Siliconera. The release projection on this story's featured image, however, slates a spring 2014 release. The latter could just be a release for japan, whilst the the former could be a release for the US. Considering the game is apparently in Beta, I'd put my finger on the spring 2014 release projection.
Source: Siliconera.
12/30/2013 10:42PM