Sony Unveils New PlayStation Wireless Headset; System Update 1.60 Inbound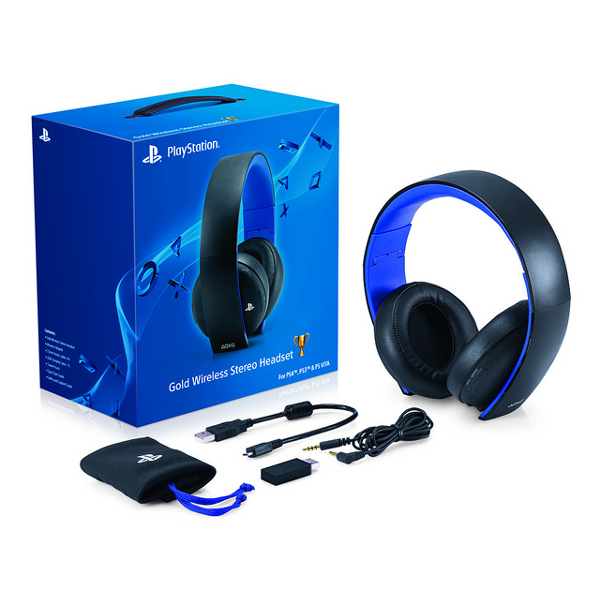 In conjunction with the PlayStation 4's upcoming 1.60 system update, which is slated to be available as a digital download later on tonight (February 3), for the US presumably, Sony has unveiled a new wireless headset that will be compatible with the PlayStation 4 following its system update.
As detailed on PlayStation.Blog.US, this new headset, the Gold Wireless Headset, is the latest in Sony's line-up of wireless headsets, and is slated to drop early this month for $99.99 (MSRP), or your regional equivalent. The Gold headset offers 7.1 virtual surround sound, custom audio modes designed specifically for certain PlayStation games to enhance their experiences, a hidden noise-cancelling microphone and customizable faceplates.
As well as being compatible with the PlayStation 4, the Gold headset is also compatible with PlayStation 3 and PC via its dedicated wireless adapter. What's more, since the headset comes included with a 3.5mm audio cable, you can use the Gold headset with pretty much any device that has a 3.5mm audio socket, including the PlayStation Vita or any mobile device--I'm assuming Nintendo 3DS' as well. Its onboard battery allows for eight hours of usage and its foldable, compact design allows for easy storage and for gaming at home or listening to music on the go, complete with its own travel pouch.
The Gold headset requires your PlayStation 4's system to be updated to 1.60 for full compatibility. The update itself will also add support for the PULSE and PULSE – Elite Edition wireless stereo headsets; essentially the update provides PlayStation 4 support for previous PlayStation-compatible wireless headsets in Sony's line-up according to PlayStation.Blog.EU.
The Gold headset, along with the PULSE - Elite Edition headset, will also be compatible with Sony's upcoming free Headset Companion App, which will be available on the PlayStation Store later on this month. The app will allow you to select and download the aforementioned developer-created audio modes, which are specifically designed and tuned to enhance a game's audio. To kick off this selection of game audio enhancements, Sucker Punch will be developing its custom audio mode for its upcoming and highly-anticipated inFAMOUS Second Son. In addition to the custom audio modes, there will also be a variety of preset audio modes for you to choose, either for gaming, music or whichever. Furthermore, you'll also be able to create your own custom audio mode via a tool assumably included in the Gold headset's package.
02/03/2014 04:50PM