New Games added to PlayStation Now Beta Following Update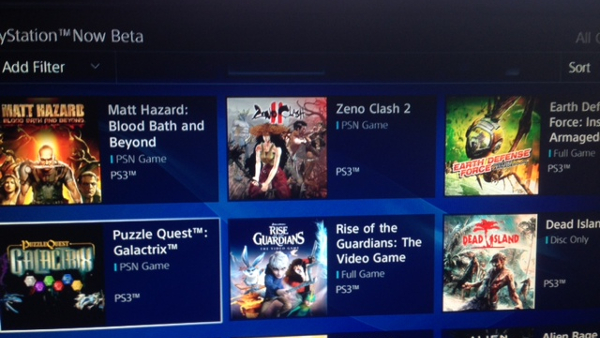 As reported by DualShockers, an anonymous tipster has revealed that Sony's PlayStation Now service (which is still currently in Beta) has received new titles to its games library in a recent 2.0 update, an update that was made available to Beta testers.
According to said tipster, the update was a 42Mb download and introduced additional games to add up to a total of 19 individual titles for Beta testers to choose from. The full list of games currently available as it stands has been detailed below.
Shadow of the Colossus

WipEout HD

Dead Nation

PixelJunk Monsters

Shatter

Guacamelee!

Disgaea 4: A Promise Unforgotten

Dead or Alive 5

Critter Crunch;

Matt Hazard: Blood Bath and Beyond;

Zeno Clash 2

Earth Defense Force: Insect Armageddon

Puzzle Quest: Galactrix

Rise of the Guardians: The Video Game

Dead Island

PAYDAY: The Heist

Order Up!!

Alien Rage

Real Steel
According to DualShockers, some games have been removed from the previous phase of PlayStation Now's Beta, including Killzone 3, Puppeteer, MX vs ATV: Alive, Ninja Gaiden 3 and Papo & Yo. It is also reported that trophy support is active for all the new titles added to the library, too.
Sony distributed a new wave of PlayStation Now Beta invites to those who registered to be a tester. If you're interested in taking part in the service's beta, you can sign up for it over on the official PlayStation Now website.
When PlayStation Now was announced, GameStop's shares took a knock of almost 9 percent at $43.98 of its shares, and the service itself currently requires a solid 5Mb/s internet connection.
[ DualShockers ]
04/11/2014 09:10PM