Heroes of the Storm Bundle Packs Now Available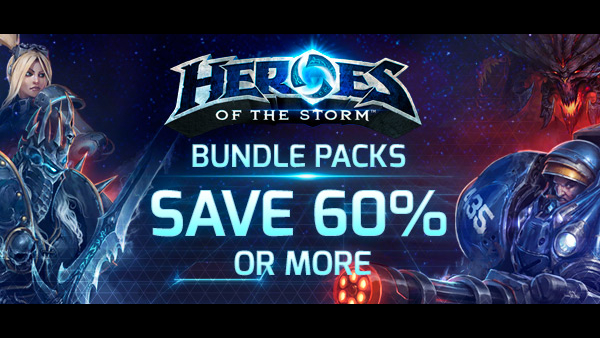 Blizzard Entertainment announced Bundle Packs for its MOBA Heroes of the Storm on Tuesday, April 15. Blizzard will be testing these series of packs (presumably to see how they fare with players), and each of them allows you to save at least 60 percent on selected heroes, skins and mounts.
There are currently four packs available for purchase, three of which are franchise-specific in terms of its content. The Starter Bundle unlocks a bunch of heroes for you to play with, along with a few skins and a mount, the Warcraft Bundle unlocks Warcraft-specific heroes, skins and a mount, the Diablo Bundle includes Diablo-specific heroes and skins, and the StarCraft Bundle unlocks StarCraft-specific heroes and a mount. The full list of the bundles have been detailed below.
Starter Bundle: Regularly $96.40, now $29.95!
Elite Tauren Chieftain (includes Glam Metal E.T.C. Skin)

Stitches (includes Psycho Stitches Skin)

Nova (includes Roller Derby Nova Skin)

Gazlowe

Sgt. Hammer

Malfurion

Rainbow Unicorn Mount
Warcraft Bundle: Regularly $49.98, now $19.95!
Falstad

Arthas (includes Lich Prince Arthas Skin)

Uther (includes Lumberjack Uther Skin)

Warhorse Mount
Diablo Bundle: Regularly $47.45, now $18.95!
Witch Doctor

Tyrael (Includes Demonic Tyrael Skin)

Diablo (Includes Lurkablo Skin)
StarCraft Bundle: Regularly $49.98, now $19.95!
Tassadar

Tychus (includes Infested Tychus Skin)

Cyberwolf Mount
However, Blizzard warns that after purchasing a bundle, you may encounter issues which cause the separate contents of said bundle to remain purchasable in the shop, meaning that even though you have already bought content via the bundle, it may still appear individually that you haven't bought it in the in-game shop. A fix for this issue is slated for release with a future patch.
Blizzard also warns that, due to future account wipes, all real-money purchase, including Bundle purchase, will be reset and refunded to your Battle.net balance.
Heroes of the Storm entered its live Technical Alpha back in early March, which is currently only available to US-based players who are press, community members and friends and family of Blizzard Entertainment employees. Four new heroes were also revealed during PAX East.
An extensive preview on the studio's current plans for Hero of the Storm's gameplay, cosmetics, mounts and player progression was also revealed a few weeks ago, detailing how you level up your profile and how you can progress in the game's current state.
On Wednesday, April 9, Heroes of the Storm's game director Dustin Browder published a post about how to effectively use your heroes both in and out of team fights, employing ambush tactics and hero focuses alike across the early, mid and late game.
Tychus, a character from the StarCraft series, had his hero spotlight for Heroes of the Storm revealed early last month. A hero spotlight video has also been revealed for Diablo's Tyrael, the Archangel of Justice. A Heroes of the Storm trailer for Kerrigan has also been revealed, too.
04/18/2014 06:43PM