Dark Souls PC Modder Scrutinizes Dark Souls II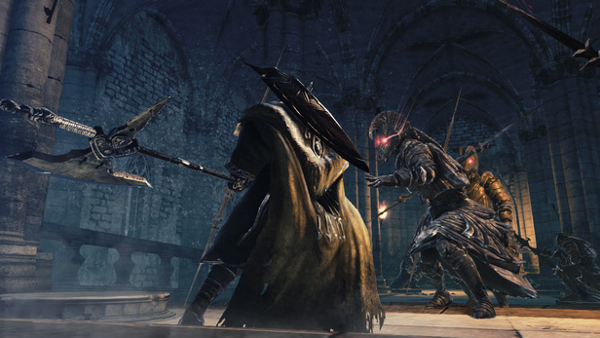 Peter "Durante" Thoman is the modder who fixed a lot of issues that were inherent to the PC version of Dark Souls. With Dark Souls II's impending PC release on Friday, April 25, PC Gamer asked Durante to analyze the PC port, to see if From Software did a better job with it than what it did with the PC version of Dark Souls.
He concluded that the title, "not only fulfills all the standard expectations in terms of resolution and framerate support, but also adds additional options beyond that." Dark Souls II on PC features high-resolution textures that even generally fit the expectations of those who play games above 1080p.
"One might also claim that, even if [From Software] never acknowledged the modding of their first port, they did certainly learn from it," Durante added. "Whether it is large changes like the inclusion of ambient occlusion, higher resolution textures and good mouse controls, or smaller but equally useful additions such as the ability to turn off the UI or skip the introduction logos, there is a lot in Dark Souls 2 at launch which modders only added to the PC port of the first game over time."
Durante also assures that, even though Dark Souls II on PC "is not quite the (almost generational) leap," the game is more beautiful and is a better experience than the original Dark Souls when fully modded. What's more, Dark Souls II on PC performs well on a wide range of hardware.
"[Dark Souls II] adds effects which greatly enhance the visual impact of some scenes, such as dynamic godrays, improves the resolution of environment textures, greatly improves shadow resolution and filtering, and maintains the highly detailed equipment models, textures and ambient specular reflections which were a hallmark of the original Dark Souls' graphics," he continued.
You can read Durante's full analysis on Dark Souls II for PC over on PC Gamer. Those who pre-ordered Dark Souls II via Steam will receive the game's digital soundtrack and early access to the Black Armour Weapon Set, as well as a PDF of the game's artbook and the complete Dark Souls II Digital Comic.
According to a recent interview with Tanimura, the PC version of Dark Souls II won't be used as a port to Xbox One or PlayStation 4 for the time being, as the studio is currently undecided on bringing Dark Souls II to next-gen consoles.
Winners of a recent shield design contest had their designs adapted and implemented into Dark Souls II by From Software. What's more, as well having their respective names credited in the game, the winners will also receive a copy of Dark Souls II: Collectors Edition and a physical shield forged by real blacksmiths created in winners' respective designs. Check out our Travis Huber's review of Dark Souls II on Xbox 360.
[ PC Gamer ]
04/18/2014 06:48PM