Chilean Retailer Lists Mass Effect Trilogy for Xbox One and PS4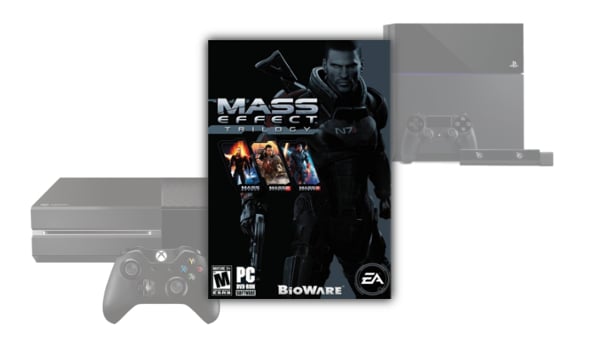 Now that the current-gen consoles have entered the fray, it seems like porting games to the Xbox One and PlayStation 4 is noticeably becoming commonplace, particularly with games that came within the past year--case and point Tomb Raider: Definitive Edition and The Last of Us Remastered.
According to post made on NeoGAF, it seems like the acclaimed Mass Effect trilogy box set may also be making its way onto Xbox One and PlayStation 4 (though a hefty amount of salt may have to be pinched). Both console versions of the box set appeared on a Chilean online retailer, next to a few other current-gen titles as well. Notably, there is no price indication attached to either of the versions.
Though BioWare hasn't made any official announcement on the Mass Effect trilogy launching on current-gen consoles, its general manager and vice president Aaryn Flynn hinted via Twitter that the matter was discussed internally, and that the studio would share any plans if they were solid enough.
"We have discussed that internally," Flynn tweeted in response to a question. "If we can put solid plans together we'll share. Great to hear you're keen."
Met with a generally enthusiastic response, it seems that most players that commented on the NeoGAF post are willing to purchase the trilogy again for their current-gen console, especially if the trilogy comes with all the previously released DLC across all three titles as well as general overhauls of each games' mechanics. Some others think they idea of re-releasing the three games on the Xbox One and PlayStation 4 is a bit daft.
BioWare's game designer Manveer Heir recently spoke out during this year's Game Developers Conference that gaming stereotypes can be broken, asserting that stereotypes in gaming "are contributing to the creative stagnation in our industry." He also believes that the industry needs to reject stereotypes "as a social responsibility to mankind."
[ NeoGAF ]
04/28/2014 07:18PM