Battlefield 4's Rent-A-Server Program Now Available on Consoles, Except It's Not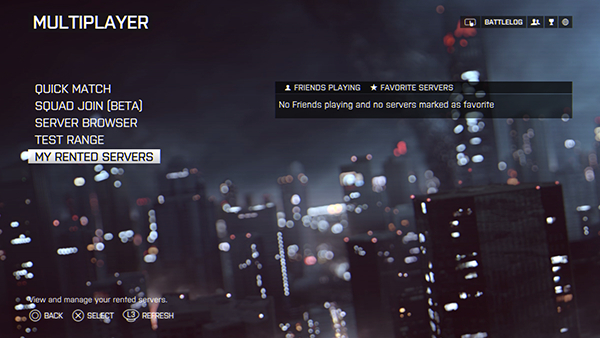 Announced on Tuesday, April 29 by DICE, Battlefield 4's Rent-A-Server program has now been rolled out onto the console versions of the title, but due to rental time issues the feature has been removed temporarily from Xbox One. What's more, due to high demand on PlayStation 4, DICE has noticed an issue with 64-player servers and have thus removed the feature from the platform until players can properly access the servers that they paid for.
Thanks to the introduction of this new feature to Battlefield 4, you will now be able to set up your own private and/or public servers on the title, complete with options that allow you to customize your server from changing the maximum player count to determine what the map rotation will be like.
To get your server up and running, go to Battlefield 4's Multiplayer menu and select "My Rented Servers", where you'll be able to rent and manage your own server(s). After choosing the server's location and how long you would like to rent it, the rental process is complete and you'll then be free to invite your friends to your own server, or have other players populate it for you if you open up a public server. You'll still be able to change the map rotation, the gamemodes and more once you rent a server.
As it currently stands, you'll able to rent a server from a selection of four different options: one day, seven days, 30 days and 90 days, which are $1.49, $6.99, $24.99 and $59.99 respectively (or your regional equivalent).
DICE assures that more servers will be gradually made available when it sees that everything is performing as intended, meaning that there will initially be only a limited amount of servers running.
On the plus side, DICE finally resolved Battlefield 4's rubber banding issues on Friday, April 25. What's more, Battlefield 4's Platoons feature--which was made available for Early Access back in January, and it was later released in March--recently received an improvement which allowed you to see what servers your Platoon members are playing on. A fact sheet of the game was also released on Wednesday, March 6, which details a comprehensive overview of what the game is. Check our Joshua Bruce's review of Battlefield 4 on Xbox One here.
[ Battlefield.com ]
05/01/2014 08:13PM