Naughty Dog Debunks Last of Us 2 Image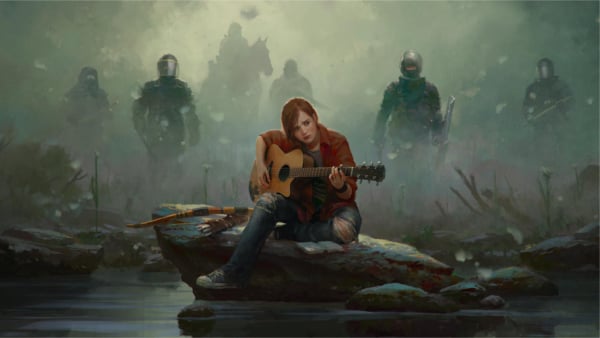 Naughty Dog artist Marek Okon teased what was interpreted to be a possible teaser image of a sequel to the studio's PlayStation 3 hit The Last of Us. After an explosion of excitement, it was later debunked that the image was indeed not a teaser to The Last of Us 2.
It initially began with a Facebook post on Monday, May 5. "Let me tease you something... Its coming," Okon enigmatically said on a post, which included a close up of what appeared to be the face of an older Ellie. Later, the full image appeared in a separate post, which was of the same Ellie sitting on a rock, holding a guitar. Behind her are what appear to be soldiers clad in riot armor, with a horse in the background.
As reported by Cinema Blend, Okon later revealed that the posted image was not official artwork, and that he produced the image for the fun of it.
"Lol. This is how you know you are teasing your stuff the right way So before its gonna get blown out of proportions - its gonna be strictly personal image. Is it about TLOU2? Not really... Maybe... Its classified. But seriously its gonna be just a fan art."
It was first revealed that Naughty Dogs' The Last of Us would be releasing on Sony's PlayStation 4 console on a NeoGAF post near the end of last month, stating the title would be launching this summer. It was later confirmed by Naughty Dog that The Last of Us would indeed be releasing on the PlayStation 4 during the summer, but no release date information was given at the time. However, it's been reported that a few online retailers have listed The Last of Us Remastered for a June 20 release. There is also a full videogame adaptation movie of The Last of Us in the works.
The Last of Us' final DLC pack, "Grounded Bundle", was made available on Monday, May 5, and with it comes a new difficulty mode. The studio's lead character artist also left Naughty Dog back in April. You can read our Matt Walker's review of The Last of Us here. A review for the game's DLC expansion "Left Behind" has also been written up by our Joshua Bruce.
[ Cinema Blend ]
05/07/2014 11:18AM