Battlefield 4's Rent-A-Server Now Works on PS4 and Xbox One, Mostly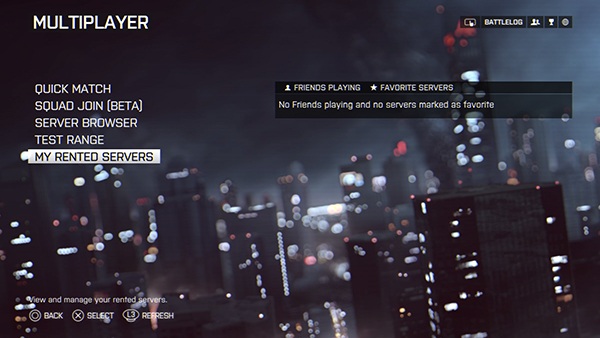 Following DICE's announcement of Battlefield 4's new Rent-A-Server feature, the developer acknowledged that both PlayStation 4 and Xbox One consoles were experiencing difficulties that cause the feature to not fully function properly. In an update on the same announcement post on Friday, May 2, DICE stated that the service is now back up and running, but not everything is fully fixed yet.
Due to high demand, problems are still be experienced regarding 64-player rented services, which are reported to fail before even starting. As a compromise while DICE furthers its investigation into the problem, the developer recommends that you set your rented servers to 50 players or less. As compensation, the developer will also be adding additional days to all Xbox One and PlayStation rented servers free of charge, which will be added as soon as possible.
"Players who rented servers on Xbox One and PlayStation 4 should now once again have full access to in-game administration tools to manage their server. Unfortunately, due to high demand, we are still experiencing issues where some 64 player rented servers can fail to start," DICE explained in its update. "While we investigate, we recommend that server administrators who are experiencing this issue set their servers to 50 players or less. We would like to thank those early adopters of the Rent-a-Server Program for Battlefield 4 for their patience during the last few days as we worked on solving the ongoing issues. We plan to add additional days to all Xbox One and PlayStation 4 rented servers free of charge. These free days will be added as soon as possible – please check back here for updates.
For those players looking to rent their own server, unfortunately all servers available at launch were quickly snapped up, but we will be adding more servers for rent as soon as possible," the studio continued. "Thank you for your patience."
As a refresher, Battlefield 4's Rent-A-Server feature allows you to set up your own private and/or public servers on the title, complete with options that allow you to customize your server from changing the maximum player count to determine what the map rotation will be like. As it currently stands, you'll able to rent a server from a selection of four different options: one day, seven days, 30 days and 90 days, which are $1.49, $6.99, $24.99 and $59.99 respectively (or your regional equivalent).
On the plus side, DICE finally resolved Battlefield 4's rubber banding issues on Friday, April 25. It has also introduced "Squad Join Beta" to the game, which will allow you to team up with up to four other players in a party-like fashion before joining a multiplayer server. Check our Joshua Bruce's review of Battlefield 4 on Xbox One here.
[ Battlefield.com ]
05/07/2014 11:21AM