Loadout Shooting onto PS4 Soon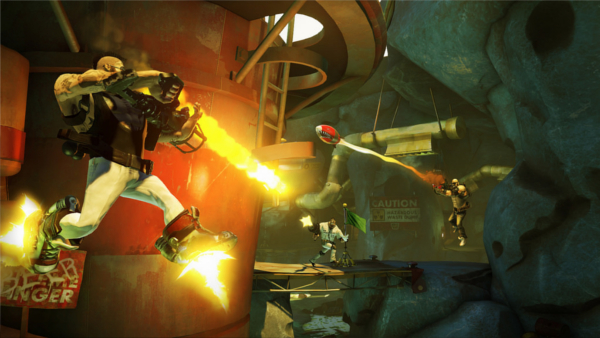 As revealed in a post on PlayStation.Blog on Thursday, June 5, Loudout developer Edge of Reality's creative director Mark Nau announced that the free-to-play shooter will be making its way exclusively to Sony's PlayStation 4 at some point in the future.
"I know you PS4 fans are a pretty tight-knit community, but let's face it--once in a while, you're going to feel the need to shoot somebody's legs off," Nau wrote in his announcement, "and I'm proud to announce that we're giving you billions of ways to do that."
Loadout is a blood-fest of a title that allows for you to create the weapon of your dreams and/or nightmares from allegedly hundreds of different components. Because of the amount of potential customization, it's possible to leap into a fast-paced battle with a weapon that can cause violently comedic results--giant death beams and bouncing Tesla balls are used as examples to name a few.
"Loadout has literally billions of different weapon combinations," Nau continued, "and you can wield every last one of them once we launch on PS4. We're going to be adjusting all the scopes and balancing the barrels so your weapons of choice feel right at home on DualShock 4.
Putting a visually unique game like Loadout on PS4 is a treat for us," he added. "The sprawling levels and bombastic characters look as glorious and murderable as ever! When you shoot someone in Loadout, you know it and they know it: limbs and heads sever, gaping holes display the delightfully shiny organs within, and flesh burns to a well-done crisp. The lavish animation and art will be right at home on PS4."
Though no specific launch date was detailed, Nau has promised that we'll be notified of the game's release on PlayStation 4 when the time arrives. Be sure to check out our Angelo M. D'Argenio's hands-on preview of Loadout for PC.
[ PlayStation.Blog ]
06/06/2014 07:02PM