The Witcher Dev Announces Mobile MOBA, "The Witcher Battle Arena"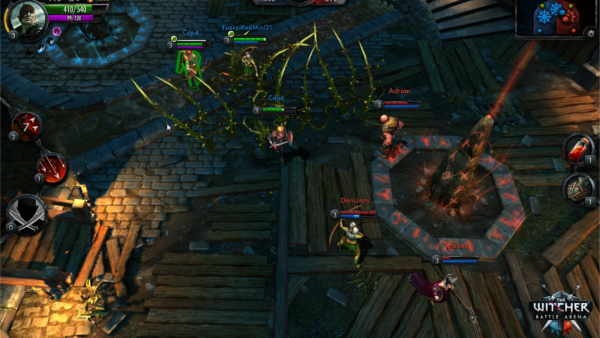 In a somewhat surprising revelation announced in a press release published on Tuesday, July 1, CD Projekt RED will be stepping into the MOBA genre in partnership with Fuero Games to develop "The Witcher Battle Arena", an addition to the Witcher series that'll be releasing on mobile.
"With mobile devices as powerful as they are and the graphics they offer being so beautiful, we can finally plunge into mobile gaming and deliver our take on free gaming to gamers worldwide," said CD Projekt RED's head of studio Adam Badowski.
The Witcher Battle Arena is described as a fast, fun and accessible MOBA set within the Witcher universe. Built from the ground up with mobile devices in mind, The Witcher Battle Arena is said to combine accessibility and a balanced learning curve with complex tactics and a limitless array of skill-based strategies.
What's more, The Witcher Battle Arena will be designed with fairness in mind, so the game will feature no pay-to-win elements; players will have to unlock every piece of in-game content via gameplay only.
Unlike League of Legends' five-on-five setup, The Witcher Battle Arena will have six heroes on each team whose objective is to capture and hold three conquest points across the game's map, similar to Heroes of the Storm in regard of objective-based gameplay.
The Witcher Battle Arena boasts an intuitive character progression system that'll allow for players to create their own tailored character builds and unique item configurations to give them the upper hand against their opponents.
"In a world full of enter-your-PIN-number-to-win mechanics, what we value above all is well-balanced and honest gameplay," CD Projekt RED creative analyst Tadek Zieliński. "Battle Arena is all about skill and dedication, and we've spent hundreds of hours planning to make it a paragon of fairness in mobile gaming."
"The whole team here at Fuero Games is really excited at the prospect of developing a game for such a big and engaged community as that of The Witcher. I'm convinced that our skill in mobile multiplayer game development, combined with the creative flair of CD Projekt RED, will produce an experience Witcher fans will want to come back to again and again," Fuero Games' CEO Stanisław Fiedor.
The Witcher Battle Arena is slated to launch sometime in Q4 2014 for iOS, Android, Windows Phone and Windows tablets. The game is planned to receive free updates that'll expand upon its character roster, gameplay modes and more.
We'll bring you more news on The Witcher Battle Arena should further information reach our ears. The only other MOBA that's currently development for mobile devices--that we have established--is Super Evil Megacorp's "Vain Glory", which is being developed for tablets by former Rockstar Games, Riot Games and Playfish staff.
[ Press release ]
07/02/2014 06:55PM