Shadow of Mordor will run at 1080p on PS4, Dev aiming for 60fps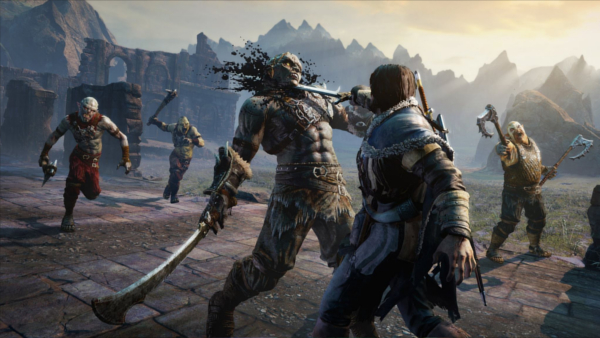 As reported by Inverted Controls on Wednesday, July 2, Middle-earth: Shadow of Mordor developer Monolith has revealed that the Lord of the Rings spin-off will run at 1080p on Sony's PlayStation 4. Furthermore, the developer revealed that it is aiming for the game to run at 60 frames per second, too.
"It's definitely 1080p and we are going to do everything we can to get to 60 frames per second," Monolith's studio head Kevin Stephens revealed in a recent livestream of the game. When Stephens was asked for details about the Xbox version of the game, he didn't respond.
The nearly two-hour-long livestream itself was an exclusive demonstration of the game's "Nemesis System", which affects the stats, appearance and personality of each nemesis that'll appear in the game, ensuring that each nemesis will be completely different for every player--no two players will have an exact same Uruk. Basically, the Nemesis System generates unique, dynamically created enemies.
Shadow of Mordor takes place a couple of millennia before the events of the Lord of the Rings trilogy, back when the dark lord Sauron was still running amok with his golden ring of power and seemingly endless hordes of orks.
The game is said to not be technically part of the Lord of the Rings canon, but story elements will align in someway. We've already established that Shadow of Mordor has its own story, set within the gap between The Hobbit and The Lord of the Rings.
In Shadow of Mordor, you play as Talion, a ranger of Gondor and a guardian of the Black Gates into Mordor. All is going fine, until Sauron shows up and proceeds to kill you and everyone you know and love. Luckily, you are resurrected by a mysterious, undying spirit--a wraith. With this new found power and this wraith to help you at your side, you then scurry off to Mordor with an aim to exact revenge.
Middle-earth: Shadow of Mordor is slated to launch on Tuesday, October 7 for PlayStation 4, PlayStation 3, Xbox One, Xbox 360 and PC. You can watch the livestream in its entirety via YouTube. You can also watch some gameplay footage that showcases the Nemesis System via the embedded video below.
We'll bring you more news on Middle-earth: Shadow of Mordor's development should further information reach our ears.
07/03/2014 09:02PM