Riot Games will be ditching Adobe Air in LoL Client Update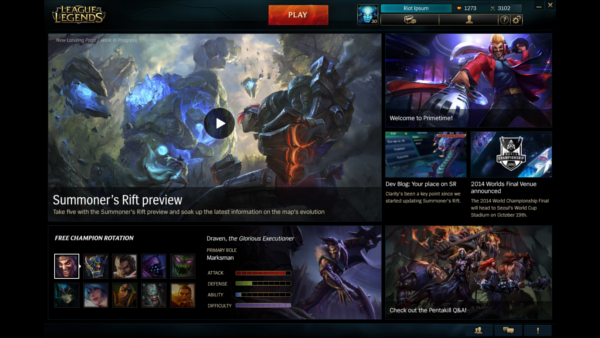 As detailed on the official League of Legends website, Riot Games has revealed its plans to update League of Legends' patcher and client, and the studio confirmed that it'll be removing Adobe Air in favor of its own technology.
Much like how the Summoner's Rift map is being updated, the game's client will also be receiving a significant visual update at a yet-to-be-announced date.
"We've heard your feedback and know a new client is at the top of many wishlists. These changes are just the first phase of what will be an extensive and ongoing development process focused on improving the pre-game experience," Riot Games wrote in its announcement.
"Along with the visual changes to the patcher, a large part of this first phase involves introducing new core client technology. While this technology won't noticeably change your pre-game experience, it will help us plan our future updates," Riot's announcement continued. "That being said, our biggest focus is maintaining stability and making sure everything works smoothly as we continue updating the client. We're looking forward to sharing our long-term plans, but today's talk is going to be focused on foundation-setting."
In the next few weeks, Riot will be planning tests for the new tech that'll power League of Legends' new patcher. Additionally, these tests will also deliver some improvements to how information in the game is presented. The patcher's new technology is said to "become an important foundation for future client updates."
"Let's use the free champion rotation as a concrete example," Riot offered when explaining how the patcher's update will affect the client. "Our current patcher shows a few names from the rotation in the news feed, but you have to click through to a web article to see the full list. With the upcoming changes, we can highlight the entire Free to Play rotation directly in the patcher. The Patch Notes have also been pulled in so you can read up on the latest changes while you're downloading them.
This new layout applies visual focus to all content, displaying media with every item. To accommodate these visuals, we increased the patcher's size, giving us more real estate to keep a few key pieces surfaced and make it easier to browse other articles," Riot continued. "We also took the opportunity to group up 'core' patching tools by condensing the download progress bar, service availability indicator and region selector at the top of the patcher. Your patching progress has also been merged into one bar to provide more streamlined information."
Confirmation of Adobe Air being removed from the client came about when a question was broached in the overview comment section.
"No it won't," Riot answered when asked if the client will be powered by Adobe Air. "The patcher update that we are releasing to PBE includes a lot of the core tech needed for a new client. The patcher update won't use Adobe AIR, it is built on our own native code base and HTML5 UI."
You can read Riot Game's full overview of what it plans for League of Legend's patcher and client via the source link below. We'll bring you more League of Legends-related news should further information reach our ears.
07/11/2014 12:04AM