Elite: Dangerous devs show off Beta Trailer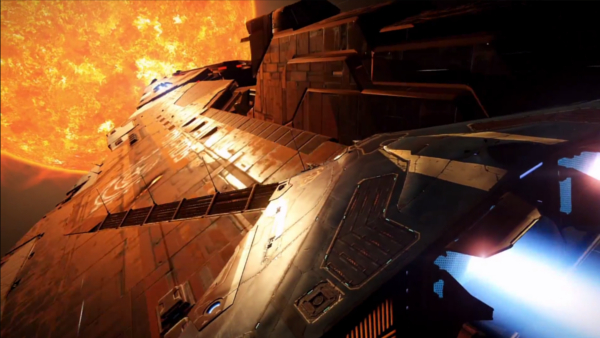 As published via YouTube on Wednesday, July 30, Frontier Developments has released a new trailer of Elite: Dangerous' Beta, which is now available to all for £50, or your regional equivalent.
"The Beta phase has now started with many significant additional features," reads the trailer's description. "There are now 55 star systems covering 38,000 cubic light year. Player to player communication by voice and text, friends management and matchmaking. Private group and online single player options. Fuel consumption and docking computers for safe star port landings. Plus an overview of trade route mapping and the beginnings of online mission systems."
The trailer itself starts off with a bounty chase after a ship destroys another while still within an orbital station, followed by a chase scene by one of the fighters who collected said bounty. To finish it off, a brief fight alongside a capital ship occurs in front if a star, which is followed up by a brief overview of what you can look forward to in the game's Beta.
We've established that Frontier Developments' founder David Braben has revealed that Elite: Dangerous will launch with graphical options that current PC gaming hardware won't be able to run.
We've also established that Elite: Dangerous entered its fourth Alpha phase back in May, which featured 400 billion star systems and 200 cubic light-years of space to travel around in. The game may also release on consoles.
Elite: Dangerous is slated to release worldwide on PC at the end of 2014, with a Mac release following three months later.
You can watch the game's trailer via the embedded video below. We'll bring you more on Elite: Dangerous' development should further information reach our ears.
07/31/2014 09:48PM