EA Introduces Game Time for Battlefield 4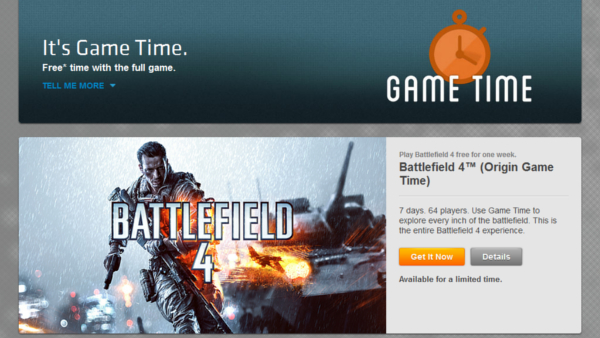 As announced Thursday, August 7, Electronic Arts has announced on its official help website that Origin Game Time will be introduced to DICE's Battlefield 4. This basically means you can have free access to the game for a small period of time.
Origin Game Time was announced back in mid-June, where EA stated that it'll provide players with the "chance to play [its] latest games for free." Game Time doesn't function as a demo, instead it just offers a full game play to play in its entirety for a set number of days.
What's more, should you choose to buy a game later on after trying it with Game Time, all your progress and saves will still be available afterwards; every level and every little thing unlocked will be automatically saved via Origin.
In the case of Battlefield 4, once you've added the Game Time edition of the game to your Origin library, you'll have full access to the game--singleplayer and multiplayer included, and everything in between--for a full seven days. This countdown begins the moment you first launch the game.
The Game Time edition of Battlefield 4 will be available from now until Thursday, August 14 at 10am Pacific Standard Time. However, the Game Time edition's own countdown is independent of how long its available for, meaning that you'll still be able to activate its seven-day game time even after the deal is no longer available.
Lastly, if you choose to buy Battlefield 4 Premium during the game's Game Time, you'll still own it after the deal's countdown has expired. However, you'll need to actually purchase the base game should you want to access Battlefield 4's Premium content again.
You can access the Game Time edition of Battlefield 4 through the "Free Games" tab via the Origin client. We'll bring you more Battlefield 4-related news should further information reach our ears.
[ EA.Help ]
08/08/2014 04:07PM