Paradox Interactive Announces Singleplayer RTS ''Ancient Space''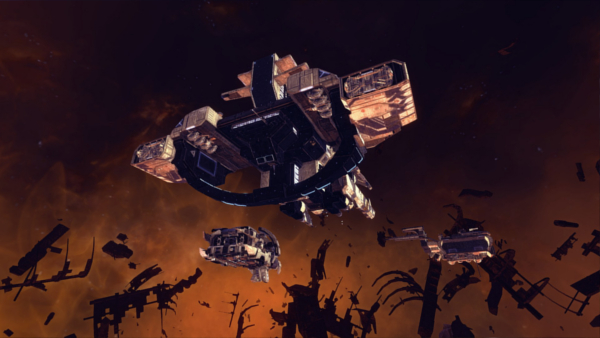 As revealed in a press release on Thursday, August 21, Swedish video game publisher Paradox Interactive has announced its new story-driven real-time strategy game from CreativeForge Games, entitled "Ancient Space".
According to the press release, Ancient Space is a singleplayer title that puts you in command of a fleet conducting a scientific mission on the edge of the universe. During this mission, the fleet is charting what lies beyond in "The Black Zone", from which a "rich and compelling story" ensues.
The story is touted to guide you as you build and upgrade your fleet, and to also survive overwhelming odds in deadly missions.
"Ancient Space mixes an engrossing single-player campaign story with time-honored RTS gameplay for a suspenseful experience. Mission objectives are many, varying from exploration to stealth, from assault to defense and more," Paradox Interactive's press release reads.
Additionally, Ancient Space will also feature fan-favorite voice actors from Firefly, Starship Troopers and Star Trek: The Next Generation. A list of some of the voices actors to expect has been detailed below, along with key features of the game, courtesy of the press release.
John Billingsley (Star Trek: Enterprise, True Blood)

Aaron Douglas (Battlestar Galactica)

Ron Glass (Firefly)

Richard Gunn (Dark Angel)

Dina Meyer (Starship Troopers, Star Trek: Nemesis, Saw)

Dwight Schultz (Star Trek: The Next Generation, Star Trek: Voyager)
Ancient Space Features:
New Frontiers, Classic Gameplay: Build, maintain, upgrade, and strategically command a multitude of ships in tactical battles and missions, facing aliens, pirates, and the unknown

An Explosive Space Opera: A compelling story, performed by a stellar cast, follows the player as the fleet tackles questions of humanity and science in an epic single-player campaign

Live with Your Choices: Each mission advances the plot, and introduces new challenges to be met by choosing the right crew and the right upgrades for the job
We'll bring you more on Ancient Space should further information reach our ears. In the meantime, you can view the game's announcement trailer via the embedded video below.
[ Press release ]
08/25/2014 10:55PM