Super Smash Bros., Pokémon and More to be Nintendo's End-of-year Line-up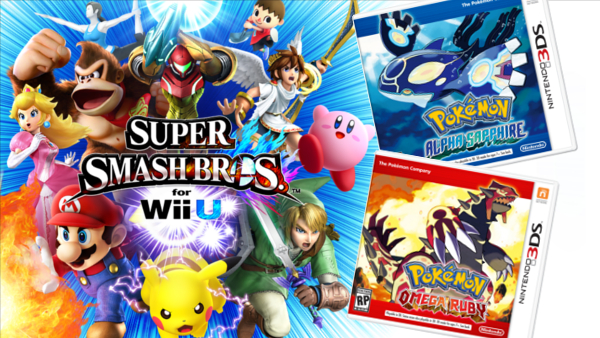 As detailed in a press release published on Friday, August 29, bigwig company Nintendo has revealed information regarding its end-of-year line-up for the games that have yet to be released on the 3DS and Wii U, which include the upcoming Pokémon third-generation remakes, Pokémon Omega Ruby and Alpha Sapphire, and the the next Super Smash Bros. game.
In addition to these games, the first 12 of Nintendo's new amiibo interactive figurines will also make up the company's line-up for the end of 2014, which include: Mario, Peach, Link, Samus, Yoshi, Donkey Kong, Pikachu, Kirby, Fox, Marth, Villager and Wii Fit Trainer, with more to be added in the future.
Alongside the release of Super Smash Bros. for the 3DS / Wii U and Pokémon Omega Ruby and Pokémon Omega Sapphire, and a bunch of third-party titles, Bayonetta 2, Ultimate NES Remix and DLC for Fantasy Life and Hyrule Warriors will be what to expect by year's end.
A list of Nintendo's upcoming first-party titles has been detailed below, courtesy of the press release. We'll bring you more news on Nintendo and its games should further information reach our ears.
The Wii U game and the first portable game in the series are getting ready for their debuts. Super Smash Bros. for Nintendo 3DS launches on 3rd October, with Super Smash Bros. for Wii U following winter 2014. As another offering for fans, those who register both Wii U and Nintendo 3DS versions of the games in Club Nintendo – before a set time - can claim the Super Smash Bros. for Nintendo 3DS & Wii U: Premium Sound Selection, a free soundtrack CD* packed with tunes taken from and inspired by the games. Further details on the timings pertaining to this offering will follow at a later date. Also in a separate announcement this morning, Nintendo revealed that Shulk from the Xenoblade Chronicles series will be a playable character in both games.
Pokémon Omega Ruby and Pokémon Alpha Sapphire for Nintendo 3DS hit stores and Nintendo eShop on 28th November, and are a complete re-imagining of Pokémon Ruby Version andPokémon Sapphire Version, games which Pokémon fans first enjoyed when they launched in 2003 for Game Boy Advance. Now, players will catch, battle and trade Pokémon as they seek answers to the mystery behind Primal Groudon and Primal Kyogre and their possible connection to Mega Evolutions. With new challenges to overcome and incredibly powerful Pokémon to encounter, these games are a true evolution in the Pokémon series.
Interactive amiibo Figures
Super Smash Bros. for Wii U, which launches winter 2014, will be the first game with full integration of amiibo. Other games that will support amiibo include Mario Kart 8, Captain Toad: Treasure Tracker, Mario Party 10 and Yoshi's Woolly World, with more to come. More details on amiibo functionality and an official launch date will be revealed shortly.
The witch is back in October in the game that features over-the-top battles with wild weapons in gorgeous locations, with a new story that takes Bayonetta on a journey to inferno to save her friend's soul. The original Bayonetta game is also available as a standalone on Nintendo eShop, or in a bundle with the retail packaged version of Bayonetta 2. Remade for Wii U, Bayonetta comes complete with some Nintendo cosplay options for the powerful heroine.
Hyrule Warriors Add-on Content
This mashup of Dynasty Warriors and The Legend of Zelda series already includes a large amount of content. Nintendo plans to support the game for the long run with more content to help players expand their adventures even farther. That program kicks off when the game launches on 19th September with a free download that adds a fun new mode, weapon and the option to select music.
Available in stores and on Nintendo eShop for Nintendo 3DS on 7th November, the game features rapid-fire challenges and mash-ups from a selection of 16 of Nintendo's finest 8-bit games. Regional online leaderboards will let players see how they stack up against others in their area, and Championship Mode offers a gauntlet of challenges from three different games.
Fantasy Life Add-on Content
Available in stores and on Nintendo eShop for Nintendo 3DS on 26thSeptember, Fantasy Life lets players become the masters of their destinies as every choice they make determines their unique Fantasy Life. Players can easily change their Life Class at any time and experience how each offers a new perspective on the world. Local and online multiplayer options let friends share the adventure, the exploration and the bounty. An add-on content pack called Origin Island – available from launch - will extend the Fantasy Life adventure even further. Origin Island offers a whole new area home to an ancient culture and powerful enemies, additional story content, new ranks to achieve in Life Classes, access to even more powerful equipment and two new varieties of pets to adopt: birds and dragons.
[ Press release ]
09/03/2014 02:20AM