Rainbow Six Siege's Year 3 Passes Available Now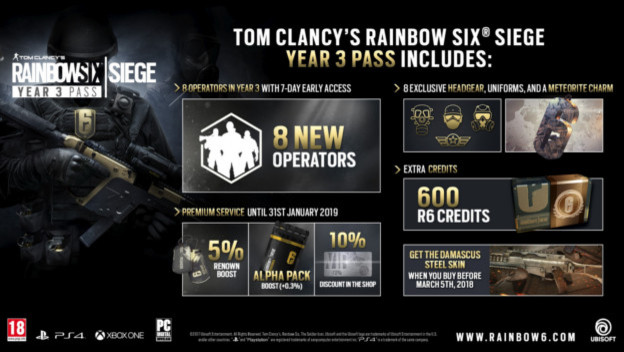 Tom Clancy's Rainbow Six Siege has been charging forward relentlessly since launch and will now be heading into it's third active year. Big fans of the game have the opportunity starting today to buy the Year 3 Pass for Rainbow Six Siege on the PlayStation Network Store, Xbox Live, or Steam. It'll set you back $29.99, but will get you all kinds of goodies throughout the year starting on March 5, 2018.

The best part about these goodies is access to all eight of the new operators that will be releasing next year. Not only are they included in the Year 3 Pass, you'll also get to use them seven days earlier than everyone else. These operators will be from Russia, France, UK, US, Italy, and Morocco. The Year 3 Pass for Rainbow Six Siege also includes premium service until January 31, 2019. This gives players a 5% renown boost, 10% discount in the shop, and an alpha pack. Even further, Year 3 Pass holders will get 600 R6 credits, and eight exclusive headgear, uniforms, and a meteorite charm. If you buy the Year 3 Pass before it starts on March 5, 2018 you'll also get a Damascus Steel weapon skin.
Rainbow Six Siege's third year is set to be a little bit different than previous years, if Operation: Chimera is any indicator. This first Operation will be introducing a new event (Outbreak) to the game instead of the traditional new map. It will also bring two new biohazard specialists to Rainbow Six Siege, one will be from France, the other Russia. It seems you'll get a lot of bang for your buck in Rainbow Six Siege's Year 3, so it might be worth considering the Pass!

Source: VG247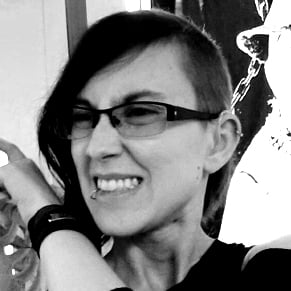 12/13/2017 05:40PM