GTA: San Andreas for Xbox 360 is Actually a Mobile Port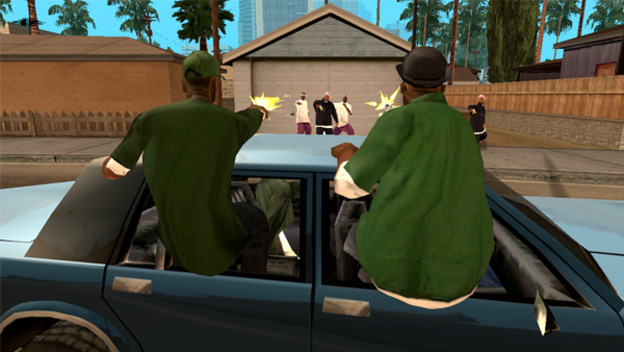 Grand Theft Auto: San Andreas has recently celebrated its 10-year birthday, and in commemoration of the decade-old game it was announced that a HD version would be released on Xbox 360 through Games on Demand via the Xbox LIVE Store. This enhanced version of the game is said to feature "720p resolution, enhanced draw distanced and Achievement support," according to Eurogamer.
However, following an investigation from Eurogamer's Digital Foundry, it has been deduced that the game is a straight port from the mobile version of Grand Theft Auto: San Andreas. Currently, the PlayStation 3 has yet to receive a similarly updated version of the game; it still has the original PlayStation 2 version available.
According to Digital Foundry, not an awful lot of love has been given to the HD re-release outside of Achievements, increased draw distance and a few other things as well. Like its mobile counterpart, the HD version of Grand Theft Auto: San Andreas sports no anti-aliasing whatsoever, whereas the PC version of the game and most other games in Xbox Originals catalog supports at least 2x or 4x MSAA.
What's more is that the HD re-release also has its frame rate capped to 30 frames per second, which in itself doesn't remain consistent. When testing the game, Digital Foundry noted the occasional extreme hitch and stutter would tank the game's frame rate down to around 15 frames per second, especially when travelling around Los Santos. On top of that, there's also bugs that are said to litter the game as well, such as the audio cutting out completely.
The HD re-release of the game is considered to be a missed opportunity on putting forward a definitive version of Grand Theft Auto: San Andreas in celebration of its 10-year birthday. Instead, Grand Theft Auto fans and fans of San Andreas have been treated with a mobile port. It's also not known whether or not the HD re-release has replaced the original game entirely in the Xbox Originals' catalog.
Below is an embedded video of Digital Foundry's frame rate test of the HD re-release of Grand Theft Auto: San Andreas. You can also read Eurogamer's full report in the matter via the source link below. We'll bring you more news on the game should further information reach our ears.
[ Eurogamer ]
10/31/2014 03:38PM