Sims 4's New Game Pack Offers Unique Outdoor Activities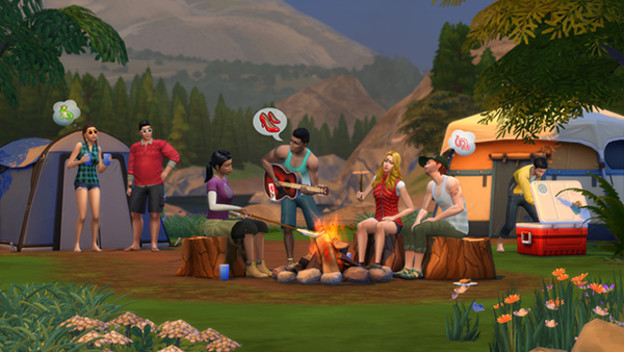 The Sims 4's first add-on pack of the new year will allow players to engage their sims in more outdoor activities. launched on Tuesday, January 13, The Sims 4 Outdoor Retreat enables players to visit an entirely new location and--among other things--let their sims go on camping trips. It introducing new things to customize Sims with, along with new clothes and objects. The expansion itself will be sold separately, and you'll need the base game, The Sims 4, in order to fully access Outdoor Retreat's content.
With the new content pack, Sims will be able to venture deep into nearby woods to find new surprises therein, such as "dangerous and wondrous herbs." New species of fish and insects can also be found in the woods as well, and it's even teased that a hermit can apparently be found in the deepest parts of the woods.
Outdoor Retreat brings with it Granite Falls, The Sims 4's new location. Pitched as a holiday camping resort, players will be able to establish temporary homes with tents, campfires, barbeques and other camping essentials. Sims will even be able to roast marshmallows and tell stories around the fire. However, it's advised that players should properly equip their Sims with the things they need before arriving at Granite Falls, such as new hiking gear. When it turns to night at the new location, The Sims 4 players can let their Sims stargaze, and if they want their Sims to be more adventurous they can make them explore the surrounding environment.
Sims will also be able to craft a variety of new and useful potions, such as insect repellent and more. In order to make the best potions, however, Sims will need to be able to identify which plants are edible and poisonous. As well as Granite Falls, Outdoor Retreat will introduce a new aspiration, trait and skill, which are Outdoor Enthusiast, Squeamish, and Herbalism respectively.
As stated before, players will need the base game of The Sims 4 before they'll be able to access Outdoor Retreat's content, which is available on Origin. You can watch the expansion's trailer via the embedded video below.
[ Source: Press release ]
01/14/2015 04:35PM