DICE Reveals Battlefields 4 Multiplayer: 64-Player Matches and Commander Mode Returns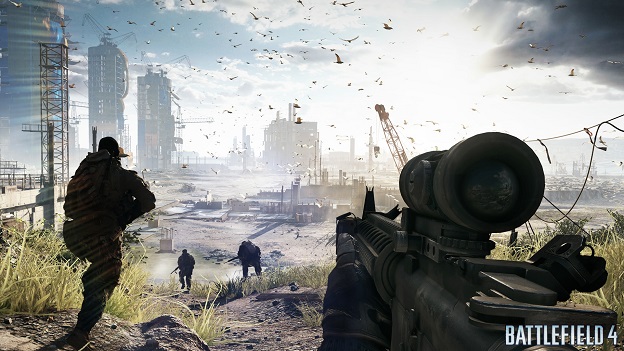 Developer DICE wasted no time during their slot at EA's E3 press conference; they finally gave us the Battlefield 4 details we've been lusting after.
First things first: April's rumors were true (at least half of them) and Commander mode is back and better than ever. By integrating tablet support, allowing the commander to aid their squad anytime and anywhere, DICE has brought back the fan-favorite tactical gameplay of Commander to the next generation of gaming in full swing.
Better still, Battlefield multiplayer is now at its biggest. In a stunning display, a demo match consisting of 64 (that's six, four) players was showcased at the conference, with no lag to boot.
The few minutes of gameplay that we saw showed us, above all else, a more immersive and dynamic environment than any Battlefield before it. Things started small: The leading squadron was able to dispatch a tank by simply collapsing a support column beneath it and then planting C4 explosives directly to the rubble-beaten remains. At the climax of the demonstration, however, we saw a full-scale skyscraper succumb to the tank fire that had been pummeling its base, and the entire structure came crashing down in beautifully rendered fashion.
Destruction like that has left players baited and claimed Battlefield 4 another sizeable chunk of CoD territory.
06/10/2013 02:10PM