First Official GTA V Artwork Revealed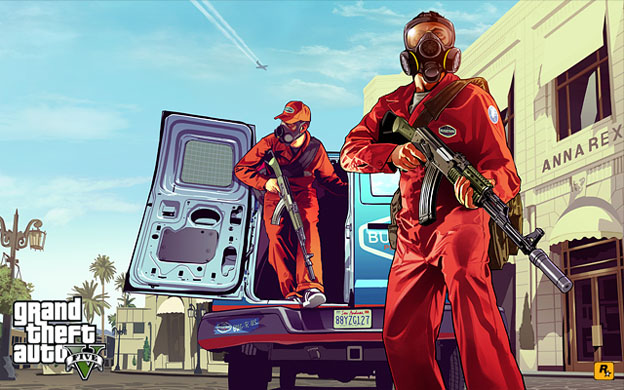 The guys at Rockstar Games have revealed the first piece of artwork for Grand Theft Auto V. We imagine this is the sort of thing you might find on loading screens, the instruction manual, and other splash screens of the game.
The picture in question shows two men in orange jumpsuits wearing gas masks and holding assault rifles jumping out of the back of a van.
It almost feels like a reference to this season of Breaking Bad, where a traveling meth lab used pest control as its cover. Perhaps we will get to do something similar in Grand Theft Auto V, which would be an awesome homage to the show.
However, it looks like these "pest control workers" are getting out of their van in some sort of commercial district, which is not something you see very often. Usually they are hired for personal use. Perhaps "pest control" is actually some sort of euphemism for assassination, or perhaps these jobs will have something to do with taking on the local gangs.
Rockstar says that they have "lots of info coming next month" and that we should "get ready." Perhaps then we will know what "pest control" really means in the context of GTA vernacular.
10/25/2012 06:55AM