Microsoft Feels Games Are More than Resolution and FPS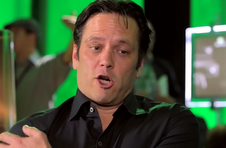 If you've been keeping up to date with everything next-gen, then you've probably already heard about resolutiongate–this began when it was revealed that Call of Duty: Ghosts will not be running in native 1080p on the Xbox One, but in 720p upscaled to 1080p. In contrast, the PS4 will run the game natively at 1080p. Concerns were then raised as to the power of the Xbox One in comparison with that of the PS4, and a debate as to how next-gen Microsoft's next-gen console is has been raging for some time now.
Yesterday, Adam Sessler sat down and talked next-gen with Head of Microsoft Studios Phil Spencer in an interview posted on Rev3 (and here's a direct link to the full interview on YouTube), and the issue of resolution came up. "If people want to get hung up on the numbers," says Phil Spencer, "they can do that, but really what they should be looking at is what's on screen, with the controller in their hands, and play[ing] the game. If they really care they can go play Forza at 1080p / 60 fps - a beautiful game. But games should be defined by more than their framerate and resolution."
Spencer was keen to emphasise that their focus is on "what's the right graphic capability, right framerate capability for the game that we're trying to build, and [to] put the control in the hands of the creator. We could've done something which I would have said would be draconian and wrong; to go out and dictate that you must hit a certain framerate, or must hit a certain resolution," then he goes on to mention that Ryse: Son of Rome will be running at a peculiar 900p at 30fps.
I think something we can all agree on is Spencer's statement that the games industry is "an industry about fun," though I'd be keen to argue that the way in which we relate and judge modern technology is becoming increasingly more critical as we become more aware of how these devices function. Therefore, though issues like FPS and resolution may seem small to some, for others it is an important thing to factor in when purchasing a new gaming machine.
Source: Rev3
11/07/2013 03:45PM